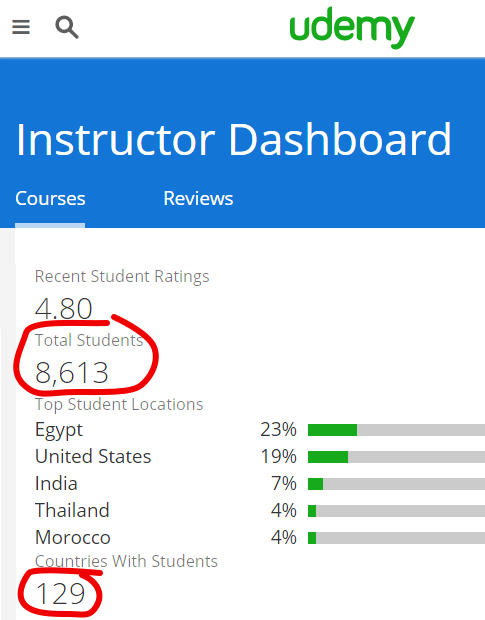 In the past 8 months, I've been honored, humbled, and amazed to have over 8,600 students enroll in my two Udemy courses, "Teach Your Kids to Code" and "Fun with Java"! In the ten months since my book, Teach Your Kids to Code debuted, we're already in a third printing (over 22,000 copies!), and I've spoken in dozens of classrooms, webinars, and conferences and signed books across the U.S. Plus, I've been featured in the Wall Street Journal twice, on NPR, on radio and in newspapers nationwide.
To say thank you for all the support my readers, students, and friends have given me throughout this adventure, I've set up two permanent coupon codes for my Udemy courses. My book is just ~$19 or so on Amazon, thanks to working with a great publisher, No Starch Press. We were able to keep the cost of the books low even with full-color throughout, to make Teach Your Kids to Code affordable for parents and kids around the world (and now in 3 languages).
I now have students in 129 countries (see my Instructor Dashboard from yesterday, right), thanks to Udemy, and I want to make sure my online video courses are as affordable to students worldwide as my books are, so starting today, the coupon code FOREVER19 will give you full, unlimited access to either "Teach Your Kids to Code" or "Fun with Java" for just $19, forever.
It's kind of like a Forever stamp here in the U.S. – buy it now, and it's good forever. I feel the same about learning to code – enroll now, learn Python or Java, or both, and life's good forever (well, at least you have a great skill that can earn you terrific money for a lifetime).
Udemy has notified instructors that it's changing its pricing structure next month, and they'll no longer run $15-$20 or similar sales like they've done sporadically in the past. But, I want you to be able to enroll in my courses at a great price, and I want you to be able to share the gift of coding with friends, family members, and people you care about. $19 seems like the perfect price to be able to share the joy of coding in Python or Java at. With over 19 hours of combined video and exercises in the two courses, and new content added every month, it's a gift that keeps on giving.
I'm grateful for the support, the great feedback, the questions, requests, and all the code snippets and cool apps my students and readers have sent me on this journey so far, and we're deep into development on the book to accompany the second course, "Learn Java the Easy Way", coming September 2017 from No Starch Press.
Thank you for choosing me as one of your guides on the world-changing path to learning to code.
Let me know if I can help anytime, and happy coding!



p.s. FOREVER19 really is a permanent coupon, as in forever $19 – if you ever have any trouble enrolling in either course for $19 using this coupon code, comment below, message me in Udemy, tweet to me @brysonpayne, or let me know somehow – I'll make sure to get you the course at that price as long as there's Internet.
p.p.s. Here are links to all three, my book on Amazon, the Teach Your Kids to Code on Udemy, and Learn Java Like a Kid on Udemy – just $19 for any one!