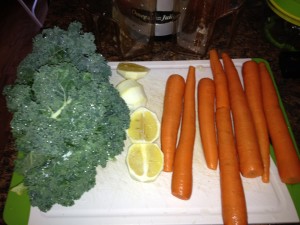 I just happened to type the date we started juicing (July 29, 2011) into Excel and noticed it's exactly 600 days ago today!
I can't believe my beautiful wife Bev and I have been juicing for 600 days – this July will make it 2 years. In that time, I've lost 54 pounds – almost a pound every 10 days, not a bad average. I've also changed my life in other ways – stepping out of a high-stress, 70-hour-a-week executive job as CIO and going back into the classroom full-time as a computer science professor, spending more time with my sons (both under 5), walking ~10-20 miles a week.
I had my cholesterol checked as part of Heart Healthy Month while participating in the Fitness Challenge at UNG, and my LDL went down by more than 20% (from 171 to 139), total cholesterol was down 20% (from 236 to 195), for the second year in a row. I expect next year's numbers to be even better.
The last few months, in addition to drinking fresh vegetable juice three or more times per week, I've also added more beans, brown rice, and raw veggies (Bev's making an incredible Avocado/Bean/Corn salsa, all whole food/plant-based and delicious!), and I've been good about keeping the sugar and white starches out without feeling deprived.
A few folks have asked me what helped, and besides having a great wife to get healthy with, three Netflix documentaries and a YouTube video have helped along the way:
Fat, Sick & Nearly Dead – great motivational jump-starter on vegetable juicing

Forks Over Knives – interesting medical documentary on eating mostly plant-based whole foods
Hungry for a Change – practical look at how eating plant-based whole foods changes the way you look and feel & the harm sugar does to your body
Sugar: The Bitter Truth – UCSF Medical Professor Robert Lustig talks about how sugar (fructose specifically) hurts your liver, metabolism, and more
In short, more healthy, good foods in, some bad foods out, more exercise, and a little convenient, ultra-healthy juicing, and I'm just 16 pounds from the weight I married Bev at, and by my calculations, I should be there in 6 months or so.
I'd love to hear what other folks are doing that's working over the long haul – no fad diets, please – and especially any additional Netflix selections you've found that offer good health insights and motivation. Comment below if you've got one to share – thanks!